La chance chez les rappeurs : entre inspiration et rejet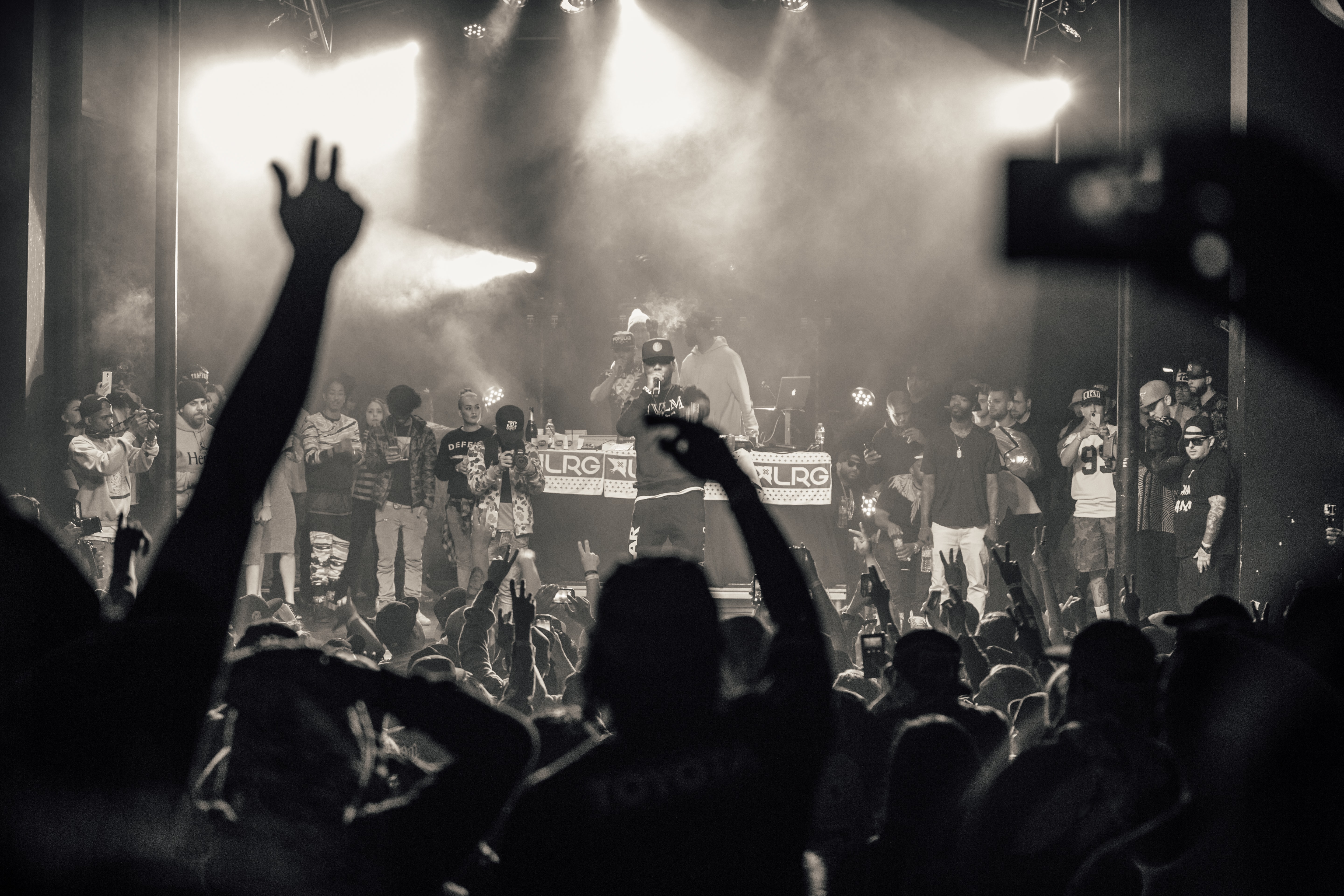 Le rap est par nature la musique de ceux qui visent la lune. Il est donc peu surprenant que le thème de la chance et du hasard revienne souvent dans les paroles des musiciens. Certains attribuent leur succès à la chance, d'autres rejettent le concept et affirment qu'ils doivent tout à leur travail acharné. On décrypte ce thème courant chez les rappeurs, et la manière qu'ils ont de l'aborder.

Le succès dans le rap : hasard complet ou concours de circonstances ?
Dans le rap, comme dans tous les autres genres musicaux, les carrières sont souvent basées sur des mythes. Et quoi de plus captivant que le hasard pour faire palpiter le cœur des foules en quête de romance chez leurs performeurs préférés ? On l'a vu avec Kanye West, qui aime à rappeler qu'il a survécu miraculeusement à un accident de voiture. Frôlant la mort en 2002, deux semaines seulement après avoir signé un accord avec une maison de disques… Il a bien sûr survécu pour devenir un des rappeurs les plus acclamés de sa génération : le mythe, dès le départ, se base sur le hasard.
Et Kanye n'est pas le seul à considérer le destin comme un composant clef de son succès. Cardi B a également rappelé sa chance d'avoir réussi à émerger en tant qu'artiste féminine à succès, dans un univers musical encore largement masculin. Quant à 50 Cent, il a lui aussi une « origin story » rocambolesque : en 2000, il produit l'album Power of the Dollar pour Columbia Records… Mais se fait tirer dessus quelques jours avant la sortie de l'album, qui est annulé. C'est la chance, qui selon lui lui a ensuite permis de se faire découvrir par Eminem. Les photos des rappeurs avant qu'ils atteignent le succès ne sont pas fascinantes pour rien : elles révèlent des personnes (presque) comme nous, qui ont été touchées par la chance à un moment.

Un thème qui s'exprime différemment dans les paroles
Les paroles des morceaux de rap s'inspirent donc logiquement de ce thème du hasard et de la chance. Mais cela n'est pas toujours pour parler de destin. Dans Lucky Charm, tiré de l'album de 2011 de Blue Dream & Lean, le rappeur Juicy J file la métaphore en expliquant qu'une femme peut lui apporter de la chance : « Elle est mon porte-bonheur, je la garde à mes côtés car elle est mon porte-bonheur. »
<iframe width="560″ height="315″ src="https://www.youtube.com/embed/pkT1RFDWS8I" frameborder="0″ allow="accelerometer; autoplay; encrypted-media; gyroscope; picture-in-picture » allowfullscreen></iframe>
Chez Khalid, la chance est cependant plutôt mauvaise quand elle est mise en regard de sa relation. Dans son titre Bad Luck (sorti en 2019 sur l'album Free Spirit), il incite une femme à être patiente avec lui, car il est victime de malchance : « Si tu m'aimes, tu dois m'aimer en entier […] car je suis amoureux de la malchance ». Le hasard est ainsi souvent vu comme quelque chose auquel le rappeur ne peut pas échapper, et qu'il doit subir.
<iframe width="560″ height="315″ src="https://www.youtube.com/embed/rTKodwXQi78″ frameborder="0″ allow="accelerometer; autoplay; encrypted-media; gyroscope; picture-in-picture » allowfullscreen></iframe>
Parfois, le hasard et la chance sont aussi utilisés comme un moyen de vanter les mérites du succès, et notamment l'argent. C'est le cas de Blackjack, un titre d'Aminé. Le rappeur fait un parallèle entre le blackjack et sa carrière, qui lui permet de profiter d'un train de vie luxueux. Comme l'explique Betway Casino dans sa présentation du blackjack, le jeu a à la fois une part de hasard (les cartes tirées) et de stratégie (il faut « faire tomber » le dealer). C'est pourquoi il s'agit pour certains rappeurs d'une métaphore appropriée de leur succès. A l'inverse, quand le rappeur allemand Kurdo évoque le sujet dans Magic Casino, c'est plutôt pour pointer du doigt l'aspect aléatoire de la vie et le hasard des bonnes fortunes.
<iframe width="560″ height="315″ src="https://www.youtube.com/embed/pmlPIu5chAA" frameborder="0″ allow="accelerometer; autoplay; encrypted-media; gyroscope; picture-in-picture" allowfullscreen></iframe>

Le rejet du hasard pour montrer sa crédibilité
Mais tous les rappeurs ne glorifient pas la chance. Pour beaucoup, le succès n'a rien à voir avec le hasard, et c'est bien le talent qui permet de progresser. C'est ce qu'explique Sola dans Les voies du hasard. Le rappeur dit qu'il est seul maître de son destin : « J'ai creusé ma tombe et m'accorde une deuxième chance. » Il sous-entend que les histoires de chance et de destin sont irréalistes, quand il s'agit d'accéder à la célébrité : « J'ai cru aux contes de fées, j'voulais devenir une star, faire le cake à la télé. »
<iframe width="560″ height="315″ src="https://www.youtube.com/embed/RrOA8kE81Y8″ frameborder="0″ allow="accelerometer; autoplay; encrypted-media; gyroscope; picture-in-picture » allowfullscreen></iframe>
Eminem semble aussi d'accord avec cette interprétation dans son duo avec Joyner Lucas. Il faut dire que le rappeur a une des « origin stories » les plus mythiques du rap US, mais qu'il a toujours maintenu que seul le travail l'a amené là où il est aujourd'hui (soit 27 millions de ventes pour son album The Eminem Show, grâce à des paroles devenues complètement mythiques). Dans Lucky You, les rappeurs expliquent : « J'ai gagné quelques Grammys, mais j'ai vendu mon âme pour les avoir. Je ne l'ai pas fait pour les trophées, juste pour voir de la reconnaissance. »
C'est l'opposition historique dans le rap : d'un côté, les rappeurs « bling bling », qui affichent billets et cabriolets, et de l'autre ceux qui occupent une situation inconfortable : ils essaient de garder une crédibilité « de rue », malgré l'argent et les passages à la télévision. D'où ce rejet du hasard, qui permet de montrer qu'on a souffert, et qu'on n'est pas là pour rien. Une attitude que reprend notamment Nekfeu dans son duo avec Orelsan et ses punchlines qu'on aime toujours autant. Intitulé Zone (sorti en 2017), le morceau martèle : « Yes, j'faisais ça pour le kiff à la base. J'faisais mes clips et mes disques à l'arrache. Mais, comme d'hab', y'a toujours un type qu'a la rage. Un truc de business qui détruira la vibe. »

Laissons le mot de la fin à Drake et ses 4 millions d'albums vendus aux USA, qui a lui aussi toujours affirmé qu'il devait tout à un travail acharné : « Si je devais compter sur la chance, j'aurais choisi un nom comme Chance The Rapper ». L'intéressé app